When snow covers the roads and your favorite trails, you don't need to put your e-bike away. From dressing in the right clothing to choosing a fat tire electric bike, there are several ways to safely enjoy riding through the snow.
Wear Proper Attire for Riding Outdoors in the Snow
A thick winter coat combined with extra physical exertion causes your body to perspire more. As the sweat builds up, you may catch a chill, which is why a breathable jacket is recommended for riding in the snow.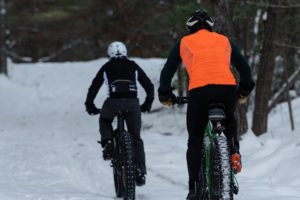 The jacket is less restrictive and helps trap body heat while allowing air to flow through the liner. You stay warm and comfortable instead of sweaty and cold.
Gloves and a wool hat are also recommended for protecting your fingers and head. However, thick boots may make pedaling difficult.
As the days are shorter during the winter, there is a greater chance of riding during low light conditions. When traveling in the dark, always wear bright colored or reflective clothing.
Choose the Best Electric Bike for Riding Through Snow
A fat tire electric bike offers more traction and stability for slippery surfaces. The tires are wider, which distributes more of the weight across a larger area, helping you remain upright. With the wider tires, it is also easier to ride through soft or deep patches of snow.
If you already have a regular e-bike, studded tires are another option. As the fat tires will not fit on the thinner fork, a studded tire can be used to prevent slippage on icy roads or hard-packed snow.
Follow Additional Safety Precautions on Snow-Covered Roads
Such as when you are driving a vehicle, it is important to adjust your speed based on the weather conditions. Take it slow and pay closer attention to your surroundings. Besides the conditions of the road, you need to watch for other bikes and vehicles that are dealing with the same hazardous conditions.
Your e-bike is also likely to get dirtier when traveling in the snow. Always wipe it down with a damp cloth after you get back home to prevent rusting.
As a final precaution, consider bringing a spare battery when you ride. The cold weather can cause the range and power to drop.