Electric bikes provide an environmentally friendly form of transportation. You do not need to buy gas or dispose of harmful lead-acid batteries. While these bikes are popular in the city streets, the tires may not work well on other terrains. The fat tire e-bike addresses this issue and provides many other advantages.
Fat Tires Allow You to Go Off Road
You may have trouble navigating rugged outdoor terrain on a standard e-bike. Riding the fat tire electric bike allows you to travel to areas that you may not normally take your bike, such as on dirt bike trails. You also may find the fat tire e-bike to feel more secure when riding in the winter.
You are less likely to slip or slide when riding the fat tire e-bike off the road or on slick surfaces. The thicker wheels offer more traction and support for muddy or rough terrain, as they offer more contact with the surface.
Fat Tires Provide More Suspension
Another reason to choose the fat tire electric bike is the suspension. When you ride a bike with standard tires, you are likely to feel every bump in the road or ground. Not only is this uncomfortable, the bumps may cause you to lose control of the bike.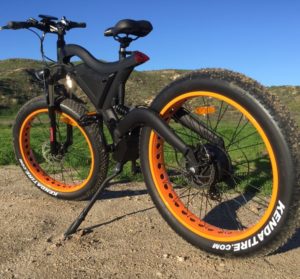 The fat tire electric bike offers more suspension, absorbing more of the impact from bumps. This provides a smoother, safer ride.
You also have the option of using a lower tire pressure for the fat tire e-bike. As the tires are bigger, they do not require as much tire pressure. The lower pressure creates even more suspension.
Fat Tires Are Great for Beginners
It is never too late to learn how to ride a bike. With the fat tire e-bike, you have wider tires that provide more balance. A beginner may be able to ride the fat tire electric bike without the need for embarrassing training wheels.
A fat tire electric bike is just like a standard e-bike with thicker wheels. These fat wheels offer many benefits for riders. You get more traction, allowing you to take the fat tire e-bike off the road. You also get more suspension, resulting in a smoother, more comfortable ride.
If you want a versatile, environmentally-friendly vehicle, the fat tire electric bike is your best bet.